HYDERABAD: Another prominent school chain in Hyderabad, Glendale Academy, has been acquired by an international entity for a reported sum of Rs 350 to Rs 400 crore. This move puts Glendale Academy in the same league as Oakridge International, Sancta Maria, and Chirec International, which have previously entered into 'strategic partnerships' with global institutions.
According to sources, the Singapore-based non-profit organization, Global School Foundation (GSF), which has a presence in 11 countries, has acquired Glendale Academy. Anjum Babukhan, the school's founder and director, announced the new partnership via email to all parents, stating that she is "leaving a 20-year legacy." The email, dated April 3, read, "With a heart filled with overflowing emotions, this will be my last letter to you as I bid adieu to our wonderful two decade long journey."
Glendale Academy has campuses located in Tellapur and Financial District, in addition to an extensive 11-acre campus in Bandlaguda.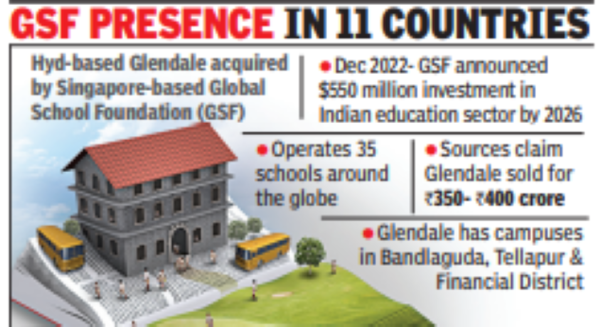 As previously informed, Glendale Academy has entered into a strategic partnership with the Global School Foundation (GSF). Anjum Babukhan, the founder and director of the school, stated in an email that after nurturing and developing Glendale Academy into a top-ranked institution in the state and country over the last 20 years, they will now hand over management and operations to GSF to expand its scope. The email further noted that they plan to focus on social service initiatives and human development efforts across strata, especially with those less privileged, besides pursuing other professional endeavors beyond Glendale.
It is worth mentioning that GSF had announced its plan to invest over USD 550 million in the Indian education sector by 2026 in December 2022. Currently, GSF operates 35 schools worldwide, including South Korea, Japan, Southeast Asia, and the Middle East.
Reportedly, the strategic partnership between Glendale Academy and GSF was signed in January of this year. The school, which started with only 43 students in 2003, now has nearly 3,000. However, some parents of students studying at the school have expressed disappointment at not being informed about the change in management earlier. They feel that they would have considered alternate options for their children had they been informed earlier, given that shifting schools at this point is not feasible. Parents' grievances are also rooted in the steep fee hike, which they believe is a result of this acquisition. While Glendale Academy hikes the fee by 10% every year, this time around, it has increased by a substantial 20%.